Kainga Korero "From the Family Home to My Own Home"
Housing journeys across social housing and flatting.
Click Here for the Link to recorded event – April 27th 2023 (unfortunately this has been removed from Facebook and we are trying to retrieve it)
Zoom Support Group – Housing Session:
Date: 13th July 2023
Time – 7 – 9pm on zoom
Topic: Disability Connect – Zoom Support – Housing
Join Zoom Meeting
https://us02web.zoom.us/j/83969062453
Meeting ID: 839 6906 2453
Passcode: 264501
or email admin@disabilityconnect.org.nz
Community Housing Collective
Disabled people, their families and whānau are frustrated and hurt that their voices are not being heard. If we don't listen to them, we run the risk of missing a once in a lifetime opportunity to build homes that address true social and economic poverty in our country. Disability Connect is providing leadership on this issue through the Community Housing Collective with the purpose of giving a voice to disabled people their families and whānau, raising awareness of the issue with housing stakeholders and advocating for change with government.
About our Community Housing Collective:
In May 2019 Disability Connect met with two community organisation's – Otara Health Charitable Trust and ME Family Services – as well as likeminded disability organisations, with a view to progressing the needs of disabled people and their families within the community.
In 2020 our Collective organised a Housing Hui in Otahuhu (click here to view the video) attended by over 200 people including Minister Carmel Sepuloni and Hon Jenny Salesa, raised questions raised by the hui with various government agencies and met with Ministers Fa'afoi and Sepuloni to advance the voice of disabled people and their parents for their unmet housing needs and conducted research to be published in May 2021.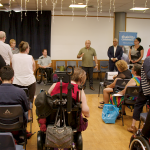 Community Housing Collective Members:
Disability Connect, ME Family Services, Otara Health Charitable Trust, Complex Care Group, Yes Disability, Autism New Zealand, IHC, Cerebral Palsy Association, Te Manawa Respite Care, Spectrum Foundation, Level-up Aotearoa Charitable Trust, Te Ora Puawai, and Auckland Disability Law.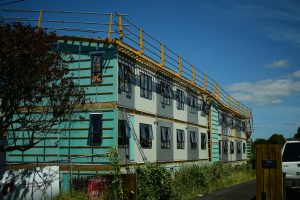 Published Research
Our research project was conducted throughout 2020 with the support of Alan Johnson from the Child Poverty Action Group. The report gives a voice to disabled people's concerns about the perilous nature of their housing tenure and living arrangements and parents' "anxiety and desperation" with respect to the future of their adult disabled children.
Where Will We Live in The Future – Research into the Unmet Needs of People with Disabilities, their Family and Whānau – Published 11 May 2021
Where Will We Live in The Future – Disabled People and Their Families.pdf
Where Will We Live in The Future – Easy Read.pdf
Where Will We Live in The Future – Easy Read text only.docx
Media Reaction to our report
https://www.tvnz.co.nz/one-news/new-zealand/housing-crisis-leaving-people-disabilities-shower-floor
https://www.stuff.co.nz/national/125105157/parents-worry-where-disabled-children-will-live-after-they-die
Social Media Reaction to our report
Paula Tesoriero- Disability Rights Commissioner
https://www.facebook.com/1858000100893819/posts/4794645430562590/
Child Poverty Action Group
https://www.facebook.com/136545753040476/posts/5017096524985350/