Artwork displayed in our office by Disabled Youth from Art for All Auckland
Each fortnight we will display artwork from different artists.
This week we feature Shanise Aumua-Hellesoe
Shanise Aumua-Hellesoe is 23 years old. When she was first introduced to art, she took to it like a duck to water and has thrived and accomplished so much since. Art has been her saving grace as she finds it to be calming and therapeutic. When Shanise is not painting, she enjoys listening to music and shopping at the warehouse for shoes and jewelery.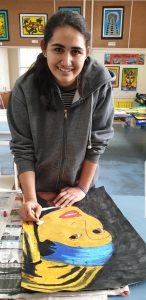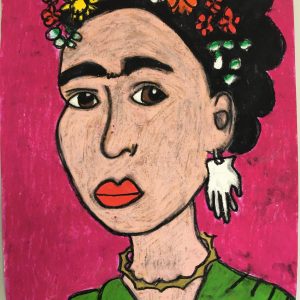 Click here for their facebook page.  We have several artists in our offices on show if you ever call in just look around we have some amazing artwork.
Athasham Ahmad bio – Artwork Auckland Harbour, Flowers
Baldric Chan bio – Artwork Cottage, Mountain Range
Daniel Wong bio – Artwork – Water lily, Cat
Shanise Aumua-Hellesoe bio – Artwork- Women with earrings
Laura Harkins bio – Artwork – Cat
Renee – Artwork – Lady